HIRAM GALVEZ
CD's Can be purchased from Hiram's Website
Whether you need a CD of his or need a selection of hymns on a CD cut for your own use? Hiram will cut you one!
Please visit his website for more information
WWW.WOWPIANO.COM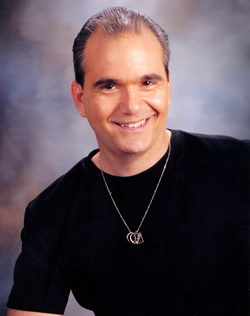 HIRAM GALVEZ
Hiram was born in Havana, Cuba, in a pastoral family. He began playing the piano and singing at the age of five at his parent's church and started to take piano lessons at the age of eight. As a teenager, he left the church and began to play and sing in nightclubs. Later traveled to Moscow, Russia to study, where he earned a Master of Science degree in Arial-Photogeodesical Engineering. Hiram continued his musical studies and career in Russia, playing and singing in several international competitions and festivals.
After his return to Cuba in 1987, he began to realize that he was living in a spiritual decay that had left him disillusioned and empty. Hiram remembered the reverent fear of the Lord taught to him by his parents at a very young age and he decided to follow their deep desire for him to be a better person. This turning point in Hiram's life allowed him to realize that he couldn't be a better person only fearing the Lord unless he accepted by faith the Lord Jesus as his only personal Savior. It was then when he decided to make a very strong commitment to live for Jesus Christ. Subsequently, receiving a call from God through the Scripture of Isaiah 61:1-2, to evangelize and make disciples, he went to the Bible Institute of the Church of the Nazarene in Havana for two years for preparing himself better for the ministry. He continued later his theological studies for four more years at the Evangelical Seminary of Theology in Matanzas, Cuba, where he earned his Bachelor's degree in Theology.
Hiram has performed also as the opening piano soloist for the well-known Christian show ''The Promise", played at the Will Rogers Theater in Branson, Missouri, during its 1998 season. He was as well a guest artist at the Christmas Holiday Prelude Festival at Juanita Hammonds Hall in Springfield, Missouri sponsored by The Messiah Project, Inc.
In addition to this, Hiram gave a presentation for a worship service at the 1999 Miss USA Pageant in Branson, Missouri. Hiram has also performed several concerts at the State Capitol in Jefferson City, Missouri and has performed many in many schools and nursing homes throughout the United States.
In ministry to the church through Rhythmic Rain Ministries and to the secular community, Hiram uses a unique presentation that ranges from classical music and traditional hymns to jazz, Gospel, and contemporary praise & worship songs. You will be blessed by his music!